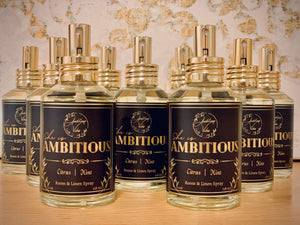 Room Spray, Ambitious
Love the smell of the candle Ambitious so why not try the Room Spray for those areas you may not want to burn a candle?
Perfect!
A couple of sprays in a bathroom keeps the smell for at least 3 days. Arrived quickly and always appreciate the packaging which is top notch and the hand written thank you note is a lovely touch for a small business. Also loved the additional spray as a Mother's Day gift !
Keep up the good work, love shopping with your business!